Clwyd South MP receives Flu Vaccine at The Pharmacy in Coedpoeth and hears about the Winter Flu Vaccine campaign
Clwyd South MP receives Flu Vaccine at The Pharmacy in Coedpoeth and hears about the Winter Flu Vaccine campaign
Member of Parliament for Clwyd South, Simon Baynes MP, recently visited The Pharmacy in Coedpoeth to receive his Flu vaccine during the Winter Flu Vaccine campaign.

On Friday November 19th 2021, Mr Baynes attended The Pharmacy in Coedpoeth and met with Dhimant Patel to learn more about the Flu Vaccine Campaign and show support for the incredible work carried out by the NHS this year with the vaccination programme.

The Flu Vaccination programme is undertaken from September to March in a bid to reduce Winter pressures on the NHS and save lives across the country. Mr Baynes heard about the incredible progress being made in the campaign, with many vaccinations taking place during evenings and weekends, as well as weekdays, in an effort to get as many priority groups vaccinated as soon as possible.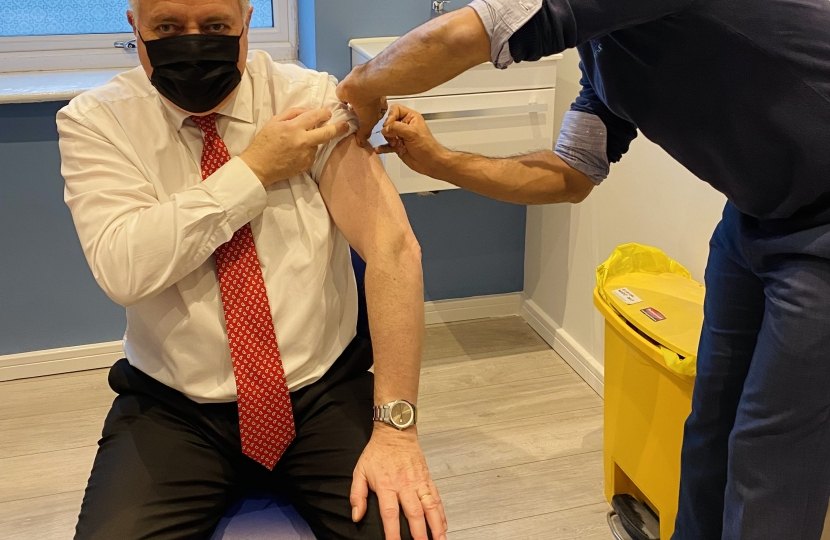 Over recent weeks, there has been a strong emphasis on vaccinating care workers and carers, with every care home in North Wales being paired with a local pharmacy in order to make vaccinations easily accessible for staff to receive. Mr Baynes was able to hear about the roll-out of the vaccinations, with vaccines being offered to care workers across the region at a time and place to suit them.

Pharmacist Dhimant Patel said:
"The Pharmacy is delighted to have welcomed MP Simon Baynes for his annual influenza vaccination. We hope to continue raising the importance of vaccinations in a bid to protect patients and reduce winter pressures on our NHS colleagues. We are still offering NHS and private flu vaccinations and from this week will start assisting with the COVID-19 booster programme. We urge patients to get in touch and book an appointment."

Simon Baynes MP said:
"It was a pleasure to visit The Pharmacy in Coedpoeth and to receive my Flu vaccine administered by Dhimant Patel and to see and hear for myself the continuous hard-work that is carried out on a daily basis. I would like to thank the team in Coedpoeth and NHS workers across my constituency on their round the clock efforts to ensure that priority groups are able to receive their vaccines to try and prevent hospitalisations due to the Flu. It really is a team effort and their commitment and dedication to protect vulnerable people this Winter is extremely apparent".